Hager Family History
Our Hager family traces back to Johann Heinrich Henry Haeger (1663-1701) from Siegen, Siegen-Wittgenstein, Nordrhein-Westfalen, Germany.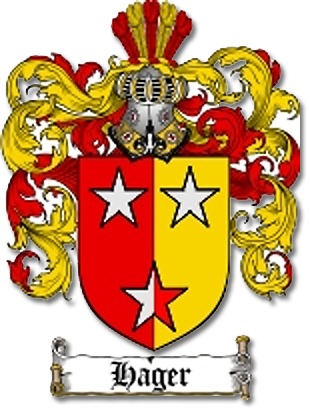 His son, who went by the name Hendrick (1702-1796), was born in Germany and came by way of the port of New York City to Schoharie, New York and settled there in 1710. He was a member of the Dutch Reformed Church and served in the American Revolution.
My Hager Research
Johann Heinrich Hager (1645-1737)
Francis Elmina Hager (1849-1898)

Hager Resources
There are several variations of the family crest or 'coat of arms' for this family name. We've chosen one to show here but realize it is probably not appropriate to associate it with later generations of the family.

---
Created 1 Jan 2020. (c) 2018-2020. Harvey Powers. All Rights Reserved.