Terrell Family History
The Terrell name traces back to France and Ralf, Sire de Tirel, de Poix and de Guernanville, who was the son of Walter I, the Count of the Vexin and Amines. There is overwhelming evidence that this line is the one that we find in England and Ireland in later generations. And there is also considerable evidence these English Tyrrolds (Tirrell, Tyrrell, etc.) are the ancestors of many of the immigrants to America (including ours).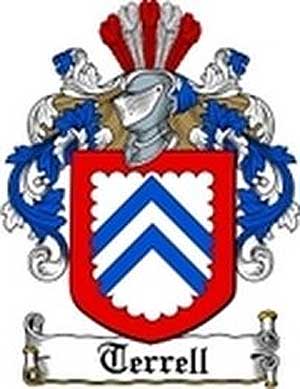 However, we should be clear that we cannot establish a fully documented line from Ralf, Sire de Tirel and our ancestors here in Virginia. There is geographic and other circumstantial evidence but not enough to say with certainty Ralf is our ancestor.
Because Ralf, Sire de Tirel, de Poix and de Guernanville and his progeny played such a pivotal role in English (and French) history, his line forward to Robert Tyrrold in Essex, England, is well documented and filled with history and nobility.
His line back in 10th century France is also fairly well documented and traces these generations in the area between France and the ducal possessions of the House of Normandy called the Vexin.
Ralf's father, Walter I, was himself the son of Waleran, Count of the Vexin. Waleran died in 965. Waleran could trace his line back to the Duke of Brabant and Charlemagne. Waleran's wife, Eldegrade, (Ralf's Grandmother) was the great-granddaughter of Alfred the Great of England.
Ralf, Sire de Tirel, de Poix and de Guernanville was the fourth son of Walter I and he made his home in a castle on the Seine River just below Paris in a village named Tirel (later changed to Triel). Ralf was the first to use the name Tirel and he drew it from that village.
The "de Poix" was because Ralph and his descendants bore among many titles, that of Lord of Poix (and later Prince of Poix). Poix (pronounced Po-ah) is a village 116 Km north of Paris on the rail line between Paris and Calais.
A descendent of Ralf, Sire de Tirel (living in Normandy, France) is Sir Walter Terrell I, who accompanied "William the Conqueror" in the conquest of England. Being a close kinsman, or cousin, as the Burke's Baronetcies calls it, of William, Duke of Normandy, he had the honor of leading the center column in the first assault on the English lines.
With his well-trained band: of retainers, from Poix he made the assault on the English center at the great battle of Hastings, October 14, 1066. His name is in the list of distinguished noblemen who fought in the battle of Hastings.
Sir Walter Terrell I grandson (Sir Hugh I, died 1159) and his great grandson (Sir Hugh II, died 1199) both fought in the Crusades. Sir Hugh II had a son Walter V , who as the oldest son, inherited, as usual under the law of primogeniture, all the titles and possessions in France of his father.
This line in France, after producing many distinguished men, finally died out in 1417, the titles and possessions passing to the female side, the family of Moyencourt, where the titles continue to this day.
The second son, Hugh Tirel, is the first in the Tirel line to settle in England, in Essex. He arrives in 1199 or 1200. Hugh's ancestor, Sir Walter Tirel I, received the large grant of land in Essex County, as a result of his service with William the Conquer at the Battle of Hastings.
So begins the English line of Tirel (Tyrrell, Terrell, etc) which starts about 1200 as Hugh settles in a manor house near East Horndon in Essex, England. This will be the Tirel home for some five-hundred years.
The name of Heron attached to the family through the marriage, early in the 14th century, of Sir James Tirel to Margaret, daughter of Sir William Heron, Knight of Heron.
There is another branch of the Tirel line, Sir Hugh II, that is identified with the English conquest of Ireland in 1169. Sir Hugh II was a cousin of Strongbow, the Earl of Penbroke, who led the battle. That line produced Richard Tyrrell and from him the Irish Tyrrell line.
There are many generations of Tirel's from Hugh Tirel in 1200 in East Horndon, Essex, England during which time the name seems to morph from Tirel to Tirrell or Tyrrell.
One of those generations, Sir Thomas Tyrrell of Heron, married Anna Marney, daughter of Sir John Marney, Knight of Essex. Anna Marney was a fifth generation great-granddaughter of Edward I or England and Eleanor of Castile. As a result, subsequent generations of Terrells are blood related to the members of the British royal family.
There are several genealogical records of that line from 1200 to about 1670 and they do not agree. Here is where we are uncertain if one of the progeny of Hugh Tirel of East Horndon leads to Richmond Tyrrell, who arrives in Virginia in 1656 and settles in New Kent County (Land Patent Book, Richmond, Book 4, page 12).
On 28 Nov 1656, Richmond Terrell is granted 640 acres for transportation of 13 persons, among them his Brother, Robert. The land is northeast side of Cattail Swamp. The patent is issued by Sir William Berkley, Governor. In the years that follow, Richmond Terrell is granted large tracts of land in New Kent and James City Counties, Virginia. Richmond Terrell is also active in the Church of England in Blissland Parish.
We are fairly certain Richmond's father was Robert Tyrrell (b. 1590, d. 12 Jun 1643) of Reading, England. Genealogists differ over the father of this Robert Tyrrell. There are several who believe Robert is the son of William Tyrrell, of Bruyn & Reading. If that were the case, it would tie our family into the line from Hugh Tirel and through him to Ralf Sire de Tirel.
However, O.F. Brown (The Tyrrells of England; Chapter Nine, Printed in Terrell Trails, Summer 1996) offers evidence that Robert's father is William Tyrrold (or Tirroll) a clothier of Reading, England. If correct, then our link to the line from Hugh and Ralf vanishes. I'd love to think I could trace my line back to Charlemagne and English royalty, but it appears I will just have to say that is a "possibility."
There is another uncertainty. Richmond Tyrrell who comes to Virginia in 1656 has a brother William and a son William. Richmond is given land for bringing brother William (b. 1620, d. 1690) to Virginia, but it seems likely that brother William either didn't really come to Virginia (and his brother lied about the trip, something apparently done frequently in early Virginia) or that he came over, but returned to England.
Richmond's son William Tyrrell (b. 1667) lives in the part of New Kent that became Hanover Co. He lived on the South Side of the Pamunkey River, near the junction of the North Anna and South Anna Rivers, in an area called "the forks." He married Susanna Waters and his progeny are our line of the Terrell family.
My Terrell Research
Richmond Terrell (1624- )
Robert Tyrrold (1490-1545)
Addie Maye Terrell (1883-1968)
Terrell Resources
There are several variations of the family crest or coat of arms for this family name. We've chosen one to show here but realize it is probably not appropriate to associate it with later generations of the family.

---
Created 1 Jan 2020. (c) 2018-2020. Harvey Powers. All Rights Reserved.