Powers Family History
The Power/Powers name began as le Poer and changed slowly to Poer, Power and eventually Powers. The le Poer name derived from the old French word "povre" (Latin pauper, poor, or someone who took a vow of poverty).1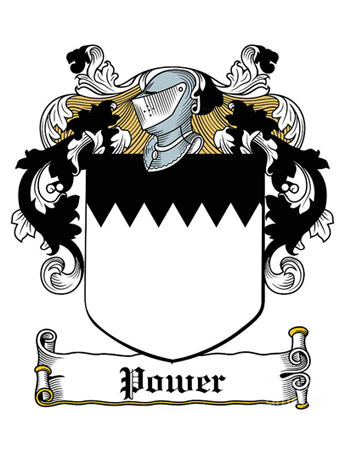 The le Poers were Normans who came to England in 1066 with William the Conqueror and the name is found on a tablet at Battle Abbey listing prominent survivors of the battle of Hastings. This family moved on to Ireland when Sir Robert De Poer invaded with Strongbow in 1172. This was an effort to secure Ireland for King Henry II.2

King Henry II's authority for invading Ireland rested on Pope Adrian who which granted Ireland to Henry. The Pope, the only Englishman ever to occupy St. Peter's chair, refers to the king's purpose "to enlarge the boundaries of the Church, to proclaim the truths of the Christian religion to a rude and ignorant people, and to root out the growths of vice from the field of the Lord." 3
In 1172, King Henry II granted by charter to Robert De Poer the County Waterford, with "the whole province thereabouts;" and made him Marshall of Ireland. In the year 1179, this Robert De Poer was joined in commission with Sir Hugo De Lacy, as lords justices of Ireland.4  
By the Victorian era, it would appear some of the Poer family tried to rewrite the history of the name for reasons of snobbery. The "…surname [le Poer], meaning `the poor man', may have been the result of taking a vow of holy poverty rather than just being impecunious. In the last century [i.e., the 19th century], when poverty was considered a stigma, the head of the Power family changed his name to de Poher de la Poer and made a valiant but unconvincing attempt to trace his descent from the fifth-century counts of a district in Brittany called Poher."5 The Genealogical Resource Center (cproots.com) confirms the original name was, in fact, le Poer.

It is most likely our ancestors were not from either line (Poer or Poher) that traces back to France but originated from Irish (and some transplanted English) serfs who worked the land on estates belonging to the le Poer family. It was common for the people who worked these estates to take the name of the estate owner.

So, it's possible we trace back to the aristocracy of France/England/Ireland. But let's be honest, it seems more likely our ancestors were those "rude and ignorant people." It was largely this group of people, seeking to escape poverty and warfare, who emigrated to America.

In a side note, it is quite possible that the Terrell and Gee families, who marry into the Powers family, are from the aristocracy.  And one researcher traces our Terrell line back to King James I of England.

The Power (le Pour) name is more numerous in County Waterford than anywhere else. In fact, nearly half their total is in that county and Power heads the statistical list for County Waterford. The remainder, apart from the city of Dublin, which contains people from all the provinces, are for the most part in the counties which adjoin Waterford: Cork, Tipperary, Kilkenny and Wexford.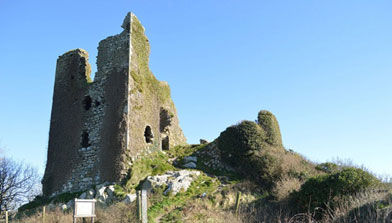 The le Poer family built "Dunhill Castle" in the early 1200's on a cliff overlooking the River Anne outside the small village of Dunhill, 2 miles south of Waterford, Ireland. The le Poer family reportedly launched attacks on the city of Waterford during the 14th century and in 1345 they were counter-attacked, taken prisoner and many hanged.
By 1649 Dunhill Castle passed into the hands of the Powers of Kilmeaden (cousins) who supported the King. Forces loyal to Oliver Cromwell captured Dunhill Castle and destroyed much of the structure. By the 1700's weather and time had taken its toll.  And in 1912, the east wall of the castle collapsed during a storm. 6 7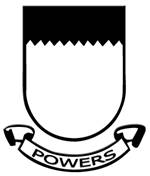 The Power/Powers "Coat of Arms" has appeared in several variations.  The one shown here is the most accepted and shows one that is a quarter length black jagged pattern on a white field.  It is one of the plainer Irish Clan coat of arms but is unmistakable.

The additional decorations (helmet, mantling, torse, crest, etc.) are built upon in the family's coat of arms. This is the crest used for the "Power clan gathering" in Waterford every three years. The next one will be in 2022.
The family motto is Per Crucem ad coronam – "By the cross, to a crown." 

The Power/Powers Family in America
Our Power/Powers ancestors were likely part of a migration of some 250,000 people who came to the "new world" in the 17th and 18th century. They were most likely Protestant.

Some were tenant farmers who had been settled in Ireland by the British government and arrived speaking English. They would later call themselves "Scotch-Irish" because they didn't want to be confused with the 19th century Irish immigrants who were largely Catholic and settled mostly in eastern cities.

There are numerous Power arrivals in America in the that time period. The best documented was Walter Power who arrived in New England 1654 and settled near Boston. I've not found any connection to the "Southern Branch" of the Power family.

The name of Walter Power appears on the Middlesex County records of 1654 as a boy 14 years old, and he was married, on "y e eleventh daye of y e first month, 1660," to Trial, daughter of Deacon Ralph and Thankes, or as sometimes written, Thankeslord Sheppard, at Maiden, Mass. Rev. Grant Powers of Goshen, Conn., has left a manuscript record, from information said to have been obtained from his gra'ndmother, the widow of Capt. Peter Powers of Hollis, N. H., that Walter landed at Salem in 1654, and that he married the daughter of a London gold-smith, which is probably correct, although she was born at Weymouth, Mass.
The Southern Branch
There is an oral history that there were three Power/Powers brothers who settled in Virginia, North Carolina and South Carolina. It's possible that our ancestor was one of those brothers but there is nothing beyond that story.
We have better documentation that what we believe is our Power/Powers line arrived in 1681 into what was called "Lower Norfolk," later Princes Anne County and now Virginia Beach. Our possible ancestor, Sampson Power, is one of 60 persons transported by Thomas Fenwick. Fenwick is rewarded with 3000 acres of land (his headright) in Norfolk County, on the Elizabeth River, on 28 Sep 1681.

Fenwick is a gentleman, son of Walter Fenwick of Atwick in York (England). Thomas Fenwick gets two pieces of land in the Norfolk area and a large parcel of land in Maryland, where he eventually settles and becomes a government official (Thomas Fenwick, by Edwin J. Sellers, Philadelphia, 1916).

There are two notable factors involving Fenwick. First, the land he is given is similar in location to the land we see Sampson's son Samuel selling later. And second, all the names on the passenger list with Sampson Sr. sound more English than Irish. That fact, plus the wills and other legal paperwork he witnessed and the existence of books in his son's library at his death persuade the author that Sampson Power was likely English and quite possibly from the area around Atwick.

Immigrant Sampson Power (frequently shown as Powers) is a witness on several wills in lower Norfolk between 1697 and 1720. We believe Sampson Power married Elizabeth and died before 1730.

On the list of tithables (Lower Norfolk), starting in 1730, we see a Mrs. Elizabeth Powers with a group of slaves along the Elizabeth River. In 1733, the list includes Mrs. Elizabeth Powers and her son Sampson. If that is the year Sampson turned 16, the customary age to show a son on the list of tithables, this Sampson would have been born about 1717. Elizabeth is likely the emigrant Sampson Power's wife, and this younger Sampson (born in 1717) could be the emigrant Sampson's son.

The first entry that shows young Sampson: "A list of the Tithables is the Westron Branch taiken the 11th of June 1733 by Thomas Scott. Mrs. Elizabeth Powers & her son, Sampson & negroes Quoth, Sara, Miro & Thomas. 5" Sampson and his mother and various slaves are shown through 1736. That is Elizabeth's last appearance on the Norfolk County tithable list.

Sampson's land - along the Elizabeth River in Lower Norfolk - matches land we later see in the hands of Samuel Power. We believe that Sampson Senior (and wife Elizabeth) have at least two sons: Samuel (older and out of the home at Sampson Senior's death) and Sampson Jr.

Sampson Junior appears to have no sons. His will mentions only a daughter Elizabeth.

Samuel, son of the immigrant Sampson, has two wives, Amy Butt (a widow with considerable land), by whom he has several children, including a Sampson (grandson of the immigrant) and a Samuel Jr.; and wife Mary, by whom he has additional children. There are at least 12. We note that both Samuel Jr. & his brother Sampson (sons of Samuel & grandsons of the immigrant) are "Master Tailors" in Princess Anne County (carved from Lower Norfolk) around 1750-1752.

We believe Sampson (son of Samuel, and grandson of the immigrant Sampson) moves to Mecklenburg County, Virginia in 1780 and buys land from William and Thomas Powers, who we believe are his brothers or more likely, half-brothers.

From Sampson in Mecklenburg County we have a clearly documented line: Sampson, William (b. 1770), Henry (1809-1884), William Henry (1832-1911), Harvey Street (1882-1962), Claude Street (1908-1975) and then me - Harvey Wayne (1945- ).
Sampson Power in Mecklenburg County
Sampson Powers was born before 1729 in Princess Anne County, VA. He died in Oct 1813 in Mecklenburg County, Virginia.

I believe this is the Sampson Power who is shown in the Princess Anne County Minutes Book as a "master tailor" who takes an apprentice on 15 February 1750 and again 19 February 1751. Those same records show a Samuel Power also a "master tailor" with apprentices in 1751 and 1752. I believe the dates suggest Samuel Powers, is Sampson's brother.

In the first Census (The census of 1790), Sampson Power is living in Mecklenburg County, Virginia. By the standards of the day, he is prosperous, with three slaves and substantial property. On adjacent farms, there are two other Powers families. There is William Powers with a family of seven persons and Joseph Powers.
Sampson and his wife Sarah (we do not have her last name) have four children: William, Samuel H., Patsy and Sally Ann.  They are all named in his will.

My Powers Research
Sampson Power, Sr ( -1720-1730) Immigrant
Sampson Power (bef 1729 - 1813)
Harvey Wayne Powers (1945 - )
Powers Resources
Powers, Chuck "Powers History" New England branch
Power, William: "The History of the Power Family Name,"
Power, William A. "Morgan and a History of the Power Family" (Asutralian Branch)(Not online; purchase)
Murphy, Eamonn; "Robert le Poer History," Powers Clan Gathering.
Powers, Amos; "The Powers Family;" The Powers family of New England
Power Clan (Ireland); "Power Clan Gathering"
Belmont, Timothy. "Gurteen Le Poer"
Power, Richard. Robert le Poer
Dunhill Castle; Power (la Poer) of Dunhill Castle
Fergus, "Fearsome Past: The History of Dunhill Castle" 2016
Redmond, Gabriel; "An historical memoir of Poher, Poer or Power,"
Tuller, Roberta; "Walter Powers,"
Footnotes
1. MacLysaght, Edward; "Irish Families," 1957, pg. 247
2. Hynes, Lee Powers; "Our Heritage: a Record of Information about the Hynes, Waite, Powers, Chenault, Maxey, Brewster, Starr and McIntosh Families," 1957, p. 59
3. Pine, Leslie G.; "Sons of the Conqueror: Descendants of Norman Ancestry," 1973, pp 249-250
4. O'Hart, John; "Irish Pedigrees," Vol. 1, 5th ed., 1892, pp 252-254
6. Walton, Julian  "Power Surname History", Belgrave Publications 1992)
7. Powers Clan; Dunhill Castle, https://powerclangathering.com/dunhill-castle/
8. Hartley, Sorcha. "History of Dunhill Castle" https://www.ancestry.com/boards/surnames.power/10.111.2.2/mb.ashx

There are several variations of the family crest or 'coat of arms' for this family name. We've chosen one to show here but realize it is probably not appropriate to associate it with later generations of the family.

---
Created 1 Jan 2020. (c) 2018-2020. Harvey Powers. All Rights Reserved.