Bailey Family History
The name Bailey is among the very earliest settlers in Colonial Virginia. William Bayley arrived in Jamestown in 1610 aboard the "Prosperous" (Ship Passenger Lists, The South, 1538-1825). This William was born in 1538. There are both name and geographic suggestions he could be our line.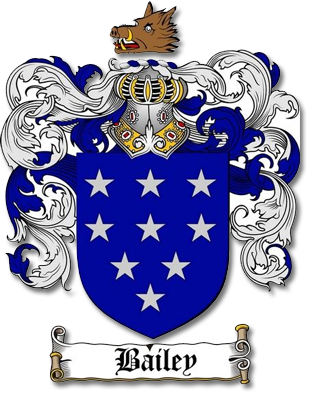 We can trace our Bailey line to Richard Henry Lee Bailey. He and other members of "our" line of the Bailey family are in Lunenburg County, Virginia, in the early 1800's. This branch of the family calls home a part of Lunenburg that is just north of the Meheran River and adjacent to the lands of the Vaughan family (who we met in the chapter about the Powers). Some portions of that land remain in the family's hands today (1994).

There is a small overgrown family cemetery next to the Bailey home place (It is located West of the home, north of state route 640, about 0.7 mile west of the intersection with Route 643. Salem Church, now deserted, is at that intersection).

Harry Bailey of South Hill, Virginia, shortly before his death, took your author to the area and indicated this land had been in the family even before Richard H.L. Bailey. We got help from the African-American family living in the house now and were able to clear the weeds and briars that had overgrown the gravestones. The land, located along the northern border of the Meheran River (near Whittle's Mill), becomes the key!

We have been unable to find the name of Richard's father or mother, but we have been able to trace that land. That land was given to one Henry Bailey in a Regal Patent on 12 May 1759 (Patent Book #34, page 245). That land is described as 590 acres, north of the Meheran and adjacent to the Vaughan family land. It is clearly would include the land on which Richard H.L. Bailey's "home place" is located.

It is unlikely that Henry is Richard H.L. Bailey's father (if Henry was 25 when he was given the land, he would have been over 68 when Richard was born!). We believe Henry is Richard H.L. Bailey's Grandfather. Henry's will (at least one that seems to match) does exist in Lunenburg County records (Will Book #2, p.15). This Henry Bailey mentions his wife Avis and a son William, who is the executor of the will and who gets "...the land and plantation where I now live." There is, however, reference to other -- un-named -- children. And so, while William Bailey is an excellent candidate for Richard H.L.'s father. There are other possibilities, however.

On 1 Jul 1755, Henry Bailey transfers land in Lunenburg County to William, John and George (DB 4, p.137, 139, 141). These could be sons of Henry. Lunenburg records at that time also refer to Thomas, Robert, a younger Henry (perhaps a Henry Jr.), and an Anselm.

One other note about William Bailey, son of Henry and possible father to Richard H.L. Bailey. Landon Bell's book "Lunenburg: The Old Free State" notes a Revolutionary war unit under Cpt. John Stokes. That unit was formed around Lunenburg County and included in its November 1778 pay roll one William Bailey.

Back now to the Henry Bailey who received the 590 acres in Lunenburg County in 1759. Who is he and where did he come from? We have not proven, but we believe its quite possible he is one of the sons of Abraham Bailey Jr. of Henrico County. Here is how we make that connection.

We are fairly sure Abraham Jr. had a son Henry. Several researchers have published that fact. None that we know of, have documented where he went. Those researchers say he was born about 1721, which would make his the right age to get a Regal Patent in 1759 (he would have been about 38).

And one of the documented other son's of Abraham Jr., (Roger C. Bailey) also appeared to be moving south from Henrico (into Charlotte County). Several later generations of the documented children are in Mecklenburg County (just across the Meheran from our Henry Bailey) or pick wives from other Southside counties.

Perhaps the best argument for the connection is the nature of the Abraham Bailey family. They are very prominent in Virginia history, with plantations along the James River and roots back to Jamestown. It's the kind of family who would have received a Regal Patent for 590 acres!
---
My Bailey Research
William Bayley (1583- ) Immigrant to Jamestown
Richard Henry Lee Bailey (1802-1870)
Sarah Jane Bailey (1841-1923)
Bailey Resources
There are several variations of the family crest or 'coat of arms' for this family name. We've chosen one to show here but realize it is probably not appropriate to associate it with later generations of the family.

---
Created 1 Jan 2020. (c) 2018-2020. Harvey Powers. All Rights Reserved.