Paynter Family History
The Paynter name can be traced far back in the history of the Saxon people. The English name Paynter emerged as an influential name in the county of Cornwall, where the family was recorded as one of great antiquity seated as Lords of the manor of Lithney and estates in that shire. They also acquired the lands of Deverell in neighbouring Gwinear and also Trelissick in the parish of St. Erth.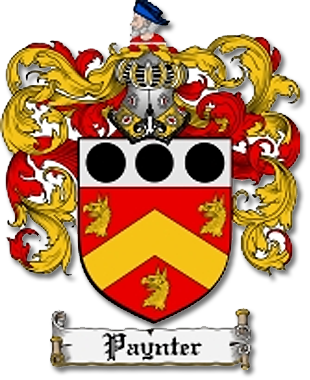 One early ancestor was William de Camborne. He killed William Paynter in a duel. He then took the name William Camborne Alias Paynter. He also took William Paynters wife!! He was a wealthy man and was granted a Coat of Arms on 22nd July 1569. He lived at Deverill, Gwinear in South Cornwall.
Researcher Milton Atkins has traced a Thomas Paynter back to a line that originated in England and which migrated to Warren County, North Carolina, by way of Barbados and Sussex County, Virginia.
Our Paynter family has its recent roots in Warren County, North Carolina. Several generations of Paynters have called an area just north of the town of Wise home. Among locals, the area is known as "Payntertown." Many members of the Paynter family are buried in the Cemetery about a half-mile east of Wise Baptist Church.
We can trace with some certainty that Paynter line back to Thomas P. Paynter (born 1836/7) who served in the Confederate Army and who appears to be the first Paynter to settle in Warren County, North Carolina. And it appears he comes from the the Thomas Paynter line noted earlier.
---
My Paynter Research
William Paynter (1532- ) Clarke of ye Ordynance and Armory
Robert Paynter (1578- ) Immigrant to Barbados
Thomas P. Paynter (1836/7 - before 1888) Confederate Soldier
Lois Marie Paynter (1947- )
Paynter Resources
There are several variations of the family crest or 'coat of arms' for this family name. We've chosen one to show here but realize it is probably not appropriate to associate it with later generations of the family.

---
Created 1 Jan 2020. (c) 2018-2020. Harvey Powers. All Rights Reserved.