Barker Family History
The name Barker is English and is associated with the tanning of leather. The use of tree bark as a tanning agent lead to the Middle English "to bark" meaning to tan leather. It is confined to the northern half of England and to the eastern counties north of the Thames. It is very frequent in Yorkshire, and is also well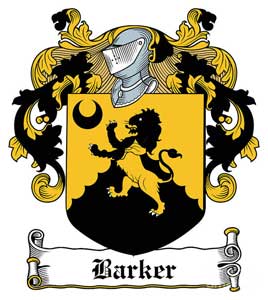 represented in the counties of Derby, Lincoln, and Norfolk. Tanner, its substitute in the south of England, has its home in Wilts, Oxfordshire, Gloucestershire, and Hants.
We believe the family traces back to Randulph de Calverhall at the manor of the same name in Shropshire in 1319. It is believed that he found himself in conflict with King Edward II and fled south to the area of Halton where he changed his name to William le Barker.
In 1349 Sir William Barker was born. The line traces through two Knights, Sir George Robert Barker (1544-1599) and Sir Robert John Barker (1580-1618).
We are relatively certain our Barker line traces back to an English sea captain John Barker, Sr. He sailed the ship "Abraham" to the colonies in 1635. About 1649 he settled on Chippokee Creek, then in James City County, later in Southwark Parish, Surry County.
His first wife, thought to have been named Letitia was the mother of his three sons, John Jr., Joel and Jethro, all apparently born in England but who later lived in Surry County, VA.
After the passing of his first wife, he married about 1672 Ann Marshall, the widdow of George Marshall. He sold

his plantations and moved to her home 'Martin's Brandon' in what is now Prince George County.
The platation home there (left) dates to about that time and is a historic landmark. It dates back to to Captain John Martin, one of the original colonists and a member of the first Council that met in the Spring of 1607.
John's grandson, William Barker (1719-1778), moves from Surry County to Pittsylvania County, VA, And his grandson, Josiah Barker (1808-1896) moves to Person County, NC. And his daughter, Mattie Barker (1859-1912) marries Thaddeus Thomas Terrell, and is your author's Great Grandmother.
In addition, my Great Aunt, Emma Gee Powers (1875-1959), marries Thornton Baynes Barker (1878-1935) who is the uncle to Mattie Barker.
---
My Barker Research
Captain John Barker, Sr. ( -1689)
Martha Adelaide "Mattie" Barker (1859-1912)
Emma Powers Barker (1875-1959)
Barker Resources
There are several variations of the family crest or 'coat of arms' for this family name. We've chosen one to show here but realize it is probably not appropriate to associate it with later generations of the family.

---
Created 28 Jan 2020. (c) 2018-2020. Harvey Powers. All Rights Reserved.